Baby boomers keep active, but without passion
September 12, 2014
Topic: stretching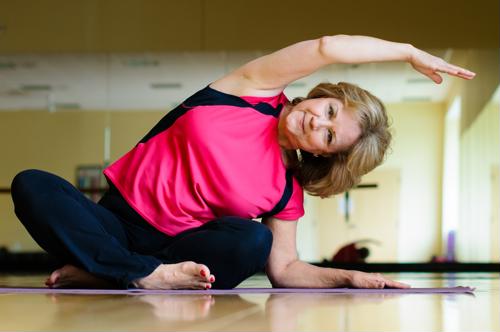 Researchers found that baby boomers are the first generation to openly embrace fitness and exercise. Yet, the study revealed that boomers are doing it because they feel obligated, not because they seek challenges or excitement. The findings were published in the International Journal of Wellbeing.
Finding passion
The study authors from Concordia University examined what motivates boomers to exercise, considering factors such as looking good and enjoyment. For the baby boomers, the most important motivator to hit the gym seems to be passion. The researchers noted this is a motivator more generations should embrace.
Lead author James Gavin stated that, once people channel their passion, people become motivated for future goals down the road, such as looking good on a beach in February.
The study surveyed 1,885 participants from YMCA communities all across Montreal. The researchers separated responses by decade, ranging from teens to participants over the age of 50. The study authors queried about four general motivation categories. The surveys revealed that, for any generation, the most popular motivator was "toned and fit", followed by "stress reduction." The survey also revealed that, for a generation who grew up in an era where exercise became important, the motivators of being social and staying mentally strong decreased with age.
Viewing exercise as a 'necessary evil'
Gavin noted that, though the surveys revealed some interesting discoveries, he is not shocked.
"Exercise is often perceived as a necessary evil. When I go to a gym and look around, I don't see a lot of excitement or laughter — people are putting in their time almost as prisoners on their solitary workout stations," he said in a statement. "They're working away, and relieved when it's over."
Though people are satisfied by the physical effects of exercise, such as losing weight and releasing stress, people do not enjoy living an overall active lifestyle. Gavin believes this is concerning and may cause boomers to lose their motivation to exercise down the road.
Yet, Gavin noted he was slightly surprised when realizing that a generation known for having a little more time on their hands and being steadily motivated are not having fun with exercising or attempting to challenge themselves. Gavin noted the contrast of these individuals to young children who discover fun in all physical activity.
He concluded that the fitness world should shift away from isolating and individual machines and more toward classes that promote collaboration and fun. He especially noted types of activities where passion is the main priority and exercise is an after-effect, such as in martial arts. Sadly, many boomers may believe they are "too old' for these activities.
People who find enjoyment and passion in a certain physical activity, such as skiing or playing tennis, are not thinking about the amount of calories they are currently burning, Gavin stated.
Best exercises over 50
As people age, it is crucial that they are following the best practices for exercise. Some of these practices include proper stretching methods and adequate hydration. People over 50 should consider these tips for exercising, according to Mirabai Holland, the director of a fitness and wellness program at the 92Y in Manhattan.
Cardio: Cardio can help promote cardiovascular health in adults over 50. Activities such as swimming, hiking, walking and running are all good methods. People should aim for 30 minutes a day if possible.
Balance: It is important for people to maintain balance as they age. Good balance can prevent slips and falls. Adults should try balance exercises every day. They should stand on one foot and try to hold it for 10 seconds.
Strength: People can keep their muscles strong as they age with a little strength training. People should work these muscles 30 to 45 minutes twice a week. Exercises such as pushups, bicep curls and squats can be useful.
Flexibility: Regular stretching can help people maintain good balance and have a better workout. Adults should stretch each day for five or 10 minutes. After a good workout, they should stretch calves and hamstrings.
---
Research & Education news & articles
More articles