Ambulatory Surgery Center
Our "Patients First" philosophy starts with our professional staff, a veritable "Who's Who" of Florida surgeons. It extends to our nurses, who appreciate how important a dose of old fashioned "TLC" can be to a patient (and their loved ones). And, it's why our center is equipped with state-of-the-art equipment and instrumentation, leading–edge technology and unique patient amenities. Learn about our quality measures by visiting FloridaHealthFinder.gov.
---
Price Transparency:
Estimation and Quotes
The Agency for Health Care Administration's (AHCA's) continues to place an emphasis on health care transparency for Florida's consumers. AHCA offers a website - FloridaHealthPriceFinder.gov. to help patients find data on health care costs for national, state, and local prices.
Additionally, Andrews Institute Ambulatory Surgery Center recognizes that the financial aspect of your care can be overwhelming. Our commitment to you is to be as transparent as possible and to provide you with the information to help you make decisions about your health care. Once you determine with your physician the services you require, we can help you determine the price estimate of the service for those patients with or without insurance.
For the patients with insurance, you should first contact your insurance company to understand your plan benefits for the care/service you anticipate receiving from Andrews Institute Ambulatory Surgery Center. You should confirm with your insurance company if the physician and the facility are both covered by your insurance plan. This is very important to know to help determine your total financial responsibility for the service you need.
If for any reason the physician or facility is not a participating provider with your insurance, your financial responsibility may increase.
What is Pricing Transparency?
"Pricing transparency" is the term used to describe initiatives in the health care industry to provide meaningful pricing information to consumers. The health care industry is often complex and difficult for consumers to navigate. Price transparency is a means of providing consumers price information on common services. Our ASC is committed to presenting pricing information in a way that will be easy for the consumer to access and understand, as well as to providing other useful information about financial assistance available, definitions of key terminology and key financial policies. Using the AHCA website, FloridaHealthPriceFinder.gov., a consumer can determine national, state, and local pricing for a variety of health care services. Patients and prospective patients should recognize that the service bundle information is a non-personalized estimate of costs that may be incurred by the patient for anticipated services and that actual costs will be based on services actually provided to the patient.
About the Facility
The Andrews Institute Ambulatory Surgery Center is a specialized facility, and was designed from the ground up to be optimal for outpatient procedures. Our eight operating rooms have complete digital equipment including the latest state-of-the-art technology utilizing high definition camera and video systems. This equipment allows your physician the ability to view the most finite detail as it relates to your procedure.
Our surgery center utilizes innovative anesthesia and pain management techniques to make surgery a more pleasant experience. The anesthesiology department is a leader in this field and conducts numerous training seminars around the globe in addition to participating in research and training initiatives. This expertise allows the patients to have a more comfortable procedure and recovery.
Should you have any questions about the Andrews Institute Ambulatory Surgery Center, or if you would like a list of physician investors, please do not hesitate to phone us at 850.916.8500.
---
Location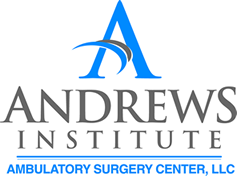 1040 Gulf Breeze Parkway / Gulf Breeze, Florida 32561
(Located on Highway 98)