Andrews Institute Total Joint Surgeon Co-Authors New Book on Innovative Technique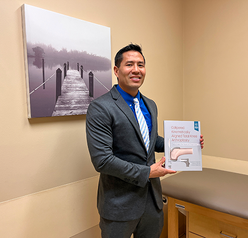 - 12/05/2021
Andrews Institute for Orthopaedics & Sports Medicine total joint surgeon G. Daxton Steele, M.D., has given up many nights and weekends over the past three years to co-author a book on kinetic alignment, an innovative technique for a total knee surgery. He wrote in his spare time while maintaining an active and very successful practice (performing around 15 total joint surgeries each week).
Dr. Steele wanted to join the book project for several reasons. Working with Steve Howell, the lead author and pioneer of the technique described in the book ("Calipered Kinematically Aligned Total Knee Arthroplasty E-book") and Stefano Bini, who's been utilizing the technique for many years, chief among them. "Total knee technique is a very hot topic in the orthopedic knee realm," Dr. Steele said. "We felt that Dr. Howell's technique was becoming more universally accepted and a structured manuscript would be welcomed." Dr. Steele also knew the topic would start a discussion amongst many experts, a good thing when the overall goal is to improve quality of life for the patient. "Any total knee replacement surgeon, even if they disagree or criticize this technique, may want to weigh in. I think the book will generate an important discussion."
The text is meant to be a complete overview of the kinematic alignment technique. The authors gathered experts on every topic within that space to make the most comprehensive book possible. Dr. Steele believes that many surgeons who perform total knee replacements would like to utilize the kinematic alignment, but don't know where to start. This text becomes a valuable resource for any surgeon in that position. While this is a first edition, Dr. Steele knows there will be more versions to come. "We are eagerly awaiting feedback from the knee surgeon community and look forward to improving and advancing the next volume in the coming years."
The book is available on Amazon and through the publisher, Elsevier. To learn more about Dr. Steele, visit andrewsinstitute.com/physicians/daxton-steele.
}