Athletic Trainers Do More Than Provide Physical Care for Injuries at UWF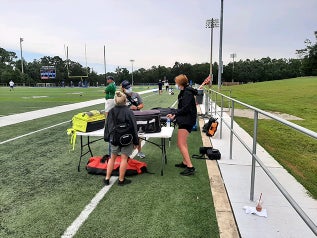 - 8/23/2021
Taking physical care of a student-athlete is a big part of the work of athletic trainers (ATs) at Andrews Institute for Orthopaedics and Sports Medicine. To say it comes with the territory would be an understatement, but to think it's all an AT does would also be missing the mark. Andrews Institute has a partnership with the University of West Florida (UWF) that allows us to provide sports medicine services to Argo athletic teams along with other activities.
"We are not only there to care for the athletic injuries, but we assist with mental-health concerns to ensure proper referral and treatment is received," said Kathleen McGraw, sports medicine outreach manager at Andrews Institute. "Education is provided to the student-athletes for nutrition, injury prevention, hygiene, and more."
Our sports medicine providers at UWF pride themselves on excellent care in service to our student-athletes. Ensuring they remain mentally and physically healthy throughout their collegiate journey is how our ATs exemplify the Baptist Health Care Mission of helping people throughout life's journey. "We know our efforts will serve them well beyond the years they spend in college. Above all, we strive to ensure they can take their experiences and lessons learned at the University with them as they shift their goals to a successful and happy adult life," said Kacy Bledsoe, UWF athletic training supervisor.
The Andrews Institute sports medicine team at UWF is made up of six full-time Baptist Health Care ATs and 2 graduate assistant/interns from UWF. Together this comprises 15 NCAA Division II athletic teams, amounting to around 400 student-athletes each year.
There's a significant educational benefit to our presence at UWF too. We act as a clinical site for multiple sports and health related majors on campus and our ATs act as clinical preceptors to athletic training students at the University. We also allow other students to come in to observe and learn about the athletic training profession.
Roger Ostrander*, M.D. and Josh Hackel*, M.D., both affiliated Andrews Institute physicians, are the long-time team physicians for the Argos, allowing for smooth coordinated care between the team doctors and the ATs. Andrews Institute believes in whole-person care for those we serve. We're on the sidelines and in the office for student-athletes, supporting them physically, mentally and emotionally.
*This provider is an independent member of medical staff and is not an employee or agent of Baptist Health Care.
}