Functional Dry Needling Now Offered at Andrews Institute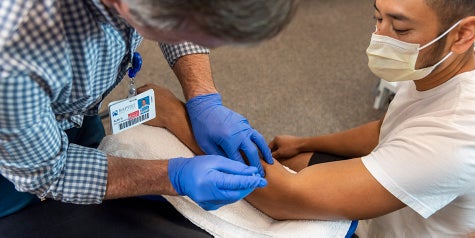 - 7/07/2021
A new service from the rehabilitation department at Andrews Institute for Orthopaedics & Sports Medicine can offer fast relief for patients suffering painful musculoskeletal conditions. Functional dry needling (FDN) is a process by which needles are inserted through the skin into the underlying tissues and muscles where trigger points (painful knots in muscles) reside. When a "twitch response" occurs, the trigger point is often lessened, and muscle relaxation begins. This can improve the state of the injury by initiating a new healing process.
Used to treat conditions like headaches, neck pain, back pain, tennis elbow, carpal tunnel syndrome and more, FDN is a significant addition to the rehabilitation service line at Andrews. "We know what a difference FDN can make for our patients, often bringing faster relief than they might expect, so I was thrilled so many of our physical therapists (PTs) went through the program," said Christa Newgent, corporate director of rehab at the Andrews Institute. Near the end of 2020 and into early 2021, 18 PTs from Andrews Institute went through the Functional Dry Needling with Evidence in Motion course to earn their certification.
While all forms of therapy have their strengths, because dry needling goes straight to the source of muscle pain it usually offers faster relief than other therapeutic options. Patients can expect results within 24-48 hours of a treatment. FDN is not usually a stand-alone procedure but, as part of a broader therapy plan, it can be the stimulus that provides faster relief to injury.
Dry needling is not considered dangerous, but a deep, achy, cramping feeling during the procedure occurs in 60-70% of treatments. And dry needling may cause about 50% of people a minor to moderate increase in muscle soreness the next day. The positive effects of dry needling often serve as a welcome trade-off to any minor pain for patients and can be enhanced with the use of electrical stimulation, a service offered at Andrews Institute rehabilitation.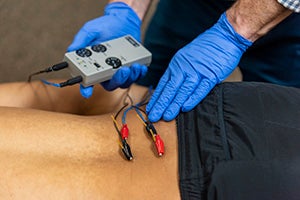 For more information on FDN or to schedule an appointment, call Andrews Institute rehabilitation at 850.908.1555 or visit AndrewsInstitute.com.
}