Pre-Participation Physicals Event a Big Success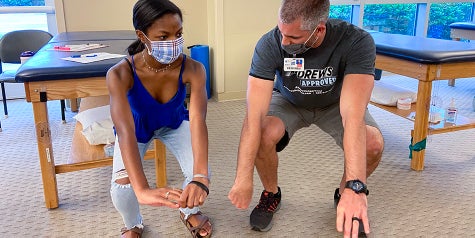 - 6/29/2021
The annual pre-participation physicals event is a tradition at Andrews Institute for Orthopaedics & Sports Medicine, and the June 5, 2021 occurrence was another huge success.
Pre-participation physical exams, or PPEs as they're affectionately called on the Andrews campus, give high school student-athletes the chance to get their required physical examinations for the following school year. This once-a-year event happens each June, by design. "We try to schedule the PPE at the beginning of the summer so that all of our many volunteers and student-athletes are able to take care of this before any summer plans start to conflict," said Michael Milligan, M.D., director of external development for sports medicine outreach. The early summer date also means student-athletes get evaluated before summer workouts begin.
With more than a decade under their belt with this event, the leadership team at Andrews has been able to streamline the process for each athlete. Kathleen McGraw, the sports medicine outreach manager at Andrews, noted "We try to improve the event each year, and we aim to complete their physicals as efficiently as possible. Frequently we have them through the line in under 45 minutes."
McGraw and the sports medicine outreach team lead the PPE effort, including the logistical concerns that come with moving more than a thousand athletes through several stations in a short amount of time. "This is actually my favorite workday every year because, along with the fact that we're providing a tremendous service to so many families across the area at no charge, it's one of the few times everyone on our outreach team gets together in one place at the same time," McGraw said.
Andrews Institute provides sports medicine coverage to all public high schools from Escambia to Walton counties in northwest Florida, and each of those partner schools are invited to the event. All told, this year more than 1,200 students attended with 37 providers and 127 volunteers on hand to conduct the physicals. "We couldn't do this without the tremendous support of those providers and volunteers," McGraw said. "They understand what a service this is, and you can tell they love to be a part of it as much as we all do."
}