Concussion Baseline Testing Program Aims to Keep Student-Athletes Safe After a Concussion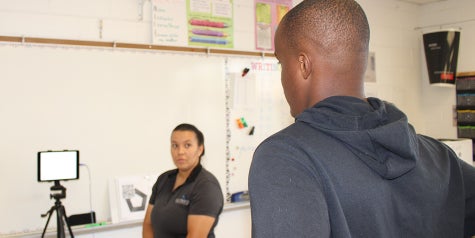 - 7/12/2021
The Andrews Institute for Orthopaedics & Sports Medicine has continued its tradition of conducting concussion baseline testing for student-athletes across northwest Florida this summer. The program, which takes students through a series of assessments that cover topics like vision, balance and cognitive thinking, is intended to collect baseline information for every student-athlete that participates.
With that knowledge, if the athlete sustains a concussion at a later time, the data can be used by clinical staff to help determine when that participant can safely return to their sport. The baseline testing is administered by Andrews Institute athletic trainers (ATs), each of whom knows how important this service is. "There's so much emphasis on when a student-athlete can return to their sport after a concussion for good reason. A return too soon could have long-term impacts on the health of the athlete. We are proud to offer the program because we know it creates higher confidence in the decision making during the return to activity process," said MC Ray, the Andrews Institute AT from Niceville High School, on hand for the baseline testing at that location in June.
Andrews Institute for Orthopaedics & Sports Medicine provides ATs and team physicians to all public high schools in Escambia, Santa Rosa, Okaloosa and Walton counties in northwest Florida, at no charge. Their presence at practices and games ensures a student-athlete that may have suffered a concussion will have the best possible chance for early detection.
The concussion baseline testing program has existed for six years, with around 2,000 student-athletes participating each summer. Andrews Institute for Orthopaedics and Sports Medicine remains dedicated to helping our student-athletes stay safe and return to sport as quickly and safely as possible after any health concern. For more information on this program or any of the services of our sports medicine outreach program, contact sports medicine manager Kathleen McGraw at Kathleen.McGraw@theandrewsinstitute.com or visit AndrewsInstitute.com.
}